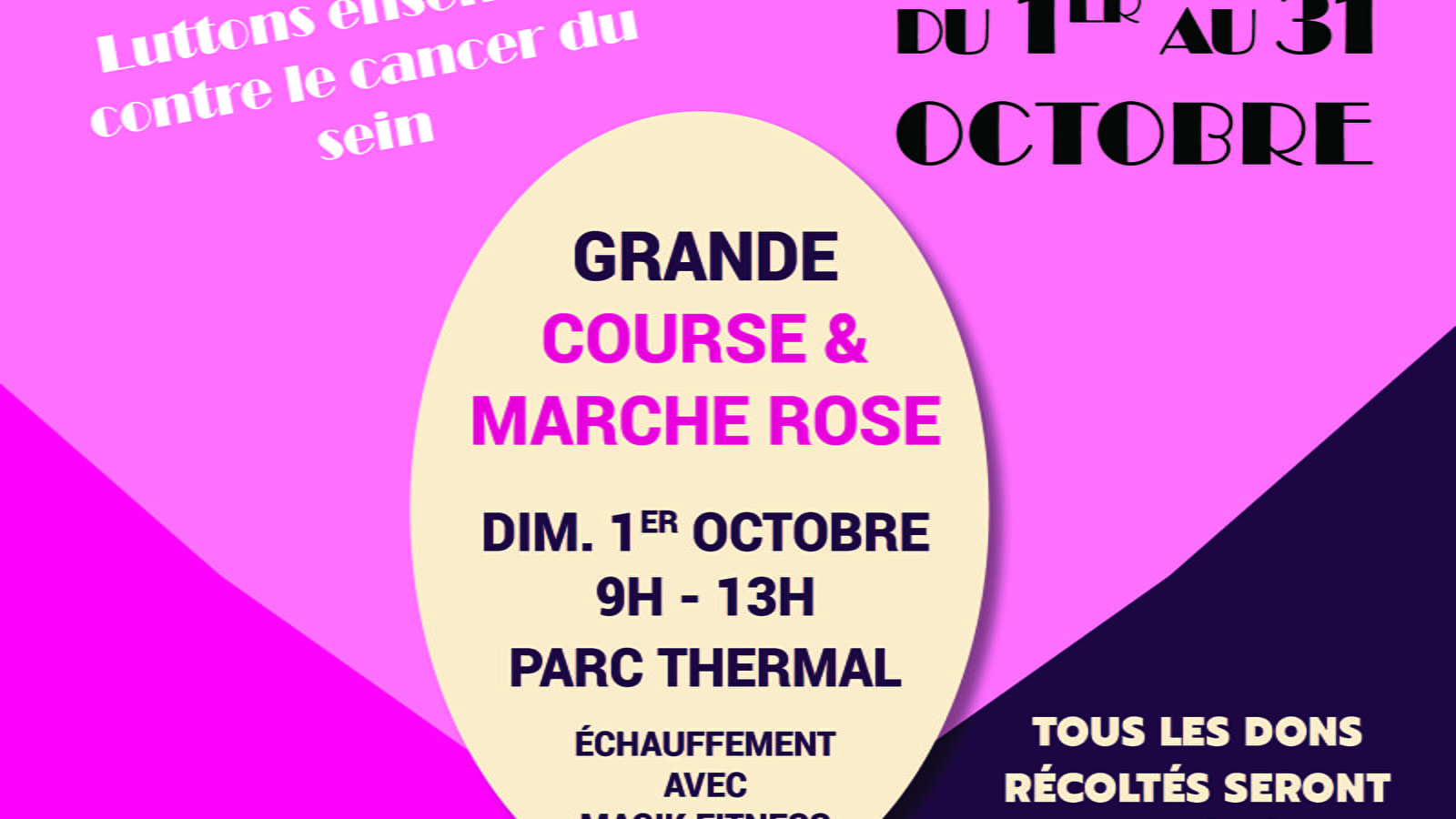 Let's fight breast cancer together!
Pink run and walk on 1 October from 9am to 1pm in the Parc Thermal.
Warm-up with Magik fitness. Come dressed in pink, and the best outfit will be rewarded!
All donations will be donated to the League Against Cancer.
For further information, please contact Luxeuil Town Hall on 03 84 40 64 52.

Programme from 1 to 31 October :
-PINK RUN / WALK: 1st October - 9am to 1pm
Parc Thermal . Stands and entertainment.

-CONCERT 1st October - 4pm.
Basilique Saint-Pierre by "la bande à Nad" from the Pusey music school - passing of the hat.

-Sophrology Cafés, 6 October - 6pm, at the spa.
14 October - 1pm, at the Abbaye Saint-Colomban.
20 October - 4.30pm at the Tourist Office.
Registration: SB Sophrorelax tel. 06 88 38 75 71.
Places limited - adults / teenagers, free participation.

-Nordic Walking, 7 October - 2-5pm, Parc Thermal.
Registration: 06 33 38 32 47, Luxeuil athlé 70, €5/person.

-Introduction to golf for all those who are or have been affected by breast cancer.
8 October - 1.30-5pm, at Golf Luxeuil Bellevue Vosges du sud. Free shuttle - registration: polesolidarite@luxeuil-les-bains.fr

-Creative writing workshop: 13 October - 5-6.30pm, municipal library with "En-VIES DE LIRE".
Library registration: 03 84 40 14 96. For adults - free participation.

-Handball Loto, 14 October - 3pm, at the Les Merises intercommunal complex.

-Dance, 14 October - 2pm-6pm, for children with Magik fitness under the cloisters - free entry.

-NIGHT RUN, 14 October - 6-9pm, meet at the cloisters, IN TOWN course - 2km loop
Refreshments: Bar le QG with "Courir Ensemble à Luxeuil", free entry.

-Sale of waffles, crêpes and sweets, 14 October - 8am-7pm, at the weekly market and in town
by "Courir Ensemble à Luxeuil".

-Screening workshop on 25 October, 10am-11.30am - town hall (meeting room) and 2pm-3.30pm - Maison des citoyens (5 bis av.
de Lattre de Tassigny) run jointly by the CPAM and a midwife. Registration at the Solidarity Centre, tel. 03 84 40 63 54 - places are limited.

-Creative writing workshop, 28 October - 5pm-6.30pm, at Les Cyclamens bookshop with "En-VIES DE LIRE". Registration at the bookshop, tel. 03 84 94 90 08 - for adults. Free admission.

-Amateur theatre "Courir contre le cancer", 29 October - 5pm, Espace Frichet, free admission - directed by Emily Oudot.

-FLASH MOB, 31st October - 13h30-15h, in the spa park, information at the spa, tel. 03 84 40 61 32 - free admission.

-PAINTING EXHIBITION FROM 9 OCT. TO 5 NOV.
Espace Frichet - Galerie des Arts : Sale of paintings in aid of the LIGUE CONTRE LE CANCER.
More...
Rates & Schedules
From 1st to 31st October.