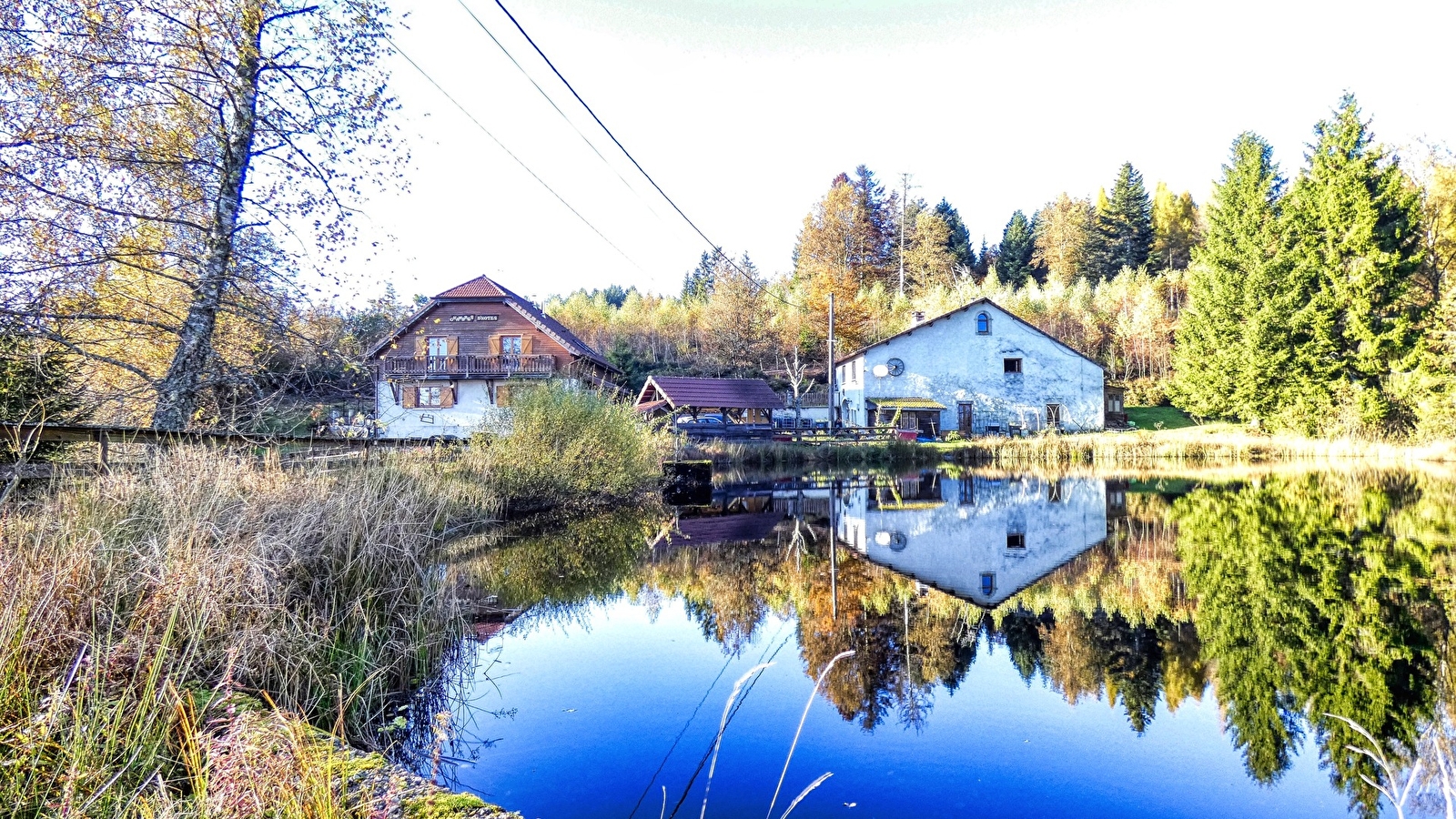 Welcome to Black Cat Mountain!

In the heart of the natural park of the Vosges Saônoises balloon, between Alsace and Burgundy, a cure of pure air in the middle of nature awaits you at 650m of altitude. Forget your worries in this typical old farmhouse, independent and spacious, entirely renovated on more than 160m². This wooden chalet is located on the border between the Southern Vosges and the Haute-Saône, at the foot of the 1000 ponds escape route, with numerous marked trails and ponds to enjoy the most beautiful hikes in the region and tourist trips of all kinds. At the heart of three destinations to experience and share: Haute Saône is a promise of escape to discover through the Ognon Valley, the Southern Vosges and Vesoul Val de Saône.

The chalet consists of a living-dining room with a billiard table ~26m², a relaxation-reading area, and a fully equipped kitchen ~20m² for a total of four individual bedrooms (~23m²) each with a private shower room (~8m²), a vanity unit, a mirror and a toilet.
The bedrooms each have a Queen size bed with bedside cabinets and storage space, as well as various other beds, and office furniture with a TV socket. All the bedding was renewed in September 2021.
Each room has large bay windows giving onto the outside, with a north-facing view of the forest park and a south-facing view of the ponds via 2 balconies offering an unobstructed view of the region's endemic ponds and the heights of the valley, with its thatches, forests and meadows.
A large terrace with tables, benches, parasol, garden and bbq are available as well as various appliances including two raclette machines.


Capacity : 15 places
Surface area and living space: 160m² + 35m² terrace with BBQ
Rental: LCD via a furnished seasonal rental contract with an inventory of fixtures on arrival and departure


Rent: tourist tax and household linen included

- 600€/night on Friday, Saturday and public holidays
- 300€/night during the week (Sunday evening to Friday noon)
- Cleaning fee per stay: 100€.
- Reservation of a complete weekend: free cleaning fee
- One week: 20% discount
- Long stay > 7 days: 300€/night

Options :

- Comfort option: 50€/stay
A 5th bedroom and bathroom are available to increase the living space by 30m² for long stays and companies as well as a second fridge.
- Late check-out option: 25€.
For a departure at 3pm instead of 11am
- Grill-Kota option: 30€/weekend
Small Scandinavian wooden hut closed in case of bad weather for grilling up to 15 people (wood provided)
- Washing machine (10kg): 4€.
- Tumble dryer (7kg): 3€.


The main landmarks in the area:

- Hiking on the 1000 ponds plateau, greenways and cycle routes
- Adventure parks : L'accro' Terrasses, La ferme aventure, ...
- Ski resorts in the Vosges
- Local products scattered throughout the area
- Numerous riding schools and municipal swimming pools
- Bakery, café and petanque field in the village
- The route des crêtes and its mountain inns
- The Alsace wine route and its cellars
- The cellars of Burgundy


In figures :
- 10km from Val d'Ajol
- 15km from the Fougerolles ecomuseum "Au pays de la cerise
- 17km from Luxeuil-Les-Bains, SNCF station and thermal baths
- 20km from Remiremont train station
- 20km from Plombières-Les-Bains, thermal spa
- 20km from the Fort de Parmont
- 20km from the Plateau des 1000 étangs
- 38km from the Base De Loisirs Du Lac De La Moselotte
- 40km from the ski resorts including Ventron
- 40km from La Bresse
- 40km from the Ballon d'Alsace
- 45km from Lake Gérardmer
- 50km from Fraispertuis Park
More...
Le Mont du Chat Noir - Chez Kaya et Ju
830 Les Monts du Tronc70280 SAINT-BRESSON
Book
French, English
4 Room(s), 15 People
Cash, Bank transfers
Pet forbidden
Services
Activities
Unattended swimming authorised in the pond or lake
game hunting
Horse riding
Exkursionen
Golf
lake
Fishing
Public swimming pool
Schneeschuhe
Footpath
Ski
Cross country skiing
Sky sports
Public tennis courts
spa therapy
Rates & Schedules
Open :
From 13/07/21 to 31/01/25 from 17:00 to 21:00
Prices :